lions for lambs

Tuesday, January 27 | 8:42 AM
I've just watched

Lions For Lamb

s

which I've taped on cable last week.  Starring big names like Meryl Streep, Tom Cruise and Robert Redford (who is also the director), the film throws up rhetorics surrounding the recent wars which have divided people around the world.  The arguments for and against war are not new.  What I like about the film is that, rather than be didactic, Redford opts to let the audience choose their side of the picket fence.  A caution though - the conversations may start slow but the pace picks up real quickly like the rat-tat of a SAR weapon.  Unless you are watching it on a DVD or in my case, on my HubStation with the choice to rewind in order to listen to the very poignant dialogue repeatedly, one may lose the true essence of the beautifully crafted script.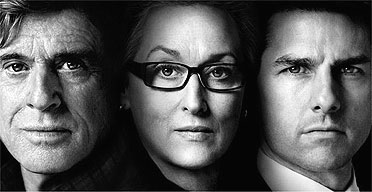 One scene just spoke to me. This is where the Professor, P, tries to persuade two Harvard students, (one hispanic, A, the other African American, B - of course, playing the politically-correctness card required by Hollywood standards) from enlisting to fight in the US Army.
A : Doc, you're the one who told us not to live over our safety nets.
P : I didn't think that would translate into you guys heading out into a war.  If I did, I would've cut my tongue out.
A : I think you are missing the point.
P : Why?  Because I can't see that the army is a better gig than a graduate school most students would give an arm to get into?
B : No, because you're not seeing that if we did anything else,  we wouldn't be a part of the most important thing going on right now.  Doc, these events are going to define our lives, just the same way Vietnam did for yours.
P: (pause) I didn't enlist.  I was drafted.  (pause.  A and B look at each other) World War One.  Human soldiers for pawns about the bravery of the British Crown admired almost as much as they laughed at the British High Command who wasted the same crowns by the hundreds of thousands.  A German General wrote, "Nowhere else have I seen such lions led by such lambs."  That statement is so dead-on right now.  These star scholars who started this war - no where near the best and the brightest, not even in the same galaxy!  They are the ones, when some of our man blown to bits in the middle of gunbattle, saying shit like, `Oh, the enemy may have bloodied our nose, but we've learnt from our mistakes.'
A : We agree.  What's the problem?
P : So what is the problem?  What are we talking? (A laughs)
B : We already know how the system works.
A : We thought that far ahead.  
B : Because going into battle makes it even more important, doc.  
P : I don't - (signals) Tell me-what do you mean?
B : We wouldn't have spent 3 weeks in school without Nixon and Watergate.   
A : If we kill bin Laden on 9.12, or if Iraq Shi'ite squeezed us with a tick-for-take parade?  We would never have to think of things like: Who are these people?  Does religion really preach murder?  Do they really need a dictator to stop each other from massacring each other?  
B : The greatest military in history can't catch 3 guys?!  Come on!
A : And how do you preach democracy and still send billions to Saudi kings or the furthest from it??
P : Or just lock yourselves into bridge huh?
A : Or sit on the bench?  The men who lead are the men who do work when there's work to be done.
B : Or you step up when you're needed.  Or sit back and let the other people do the lifting for you?
A : Just simple questions.
P : But potentially really awful answers.  Guys, just trust me.  Please!  Trust me.  If I'd thought this fight was worth the sweat.  I beg ya.  I would.   But what about stepping up here?  Changing policies at home.  
B : Look, we go do this now, then we come back and go to school. 
B : Then we can do something.  
A : Black, Mexican combat vets with an education.
B : Damn!  No debt to dictate what we do next?  They'll gotta listen to us then, doc.  We can change things!
P : If.  (pauses a long while) If.